If you have gotten a rabbit from us and and would like to share your story,
please e-mail us at:

Info@FisherFarmsRabbitry.com

"Working with Fisher Farms Rabbitry has been a pleasure! Besides having excellent show and brood stock, their rabbits are well socialized, friendly buns and are easy to work with. I am a repeat client and will probably remain so.  Our latest addition, Fisher Farm's Gabi, has become one of our favorite girls; she is built like a tank and has an absolutely engaging personality."
–Beth Holmes

"I got my bunny "Eva" from Fisher farms two years ago. Since I got her I have renamed her Lexie. She is the sweetest little girl! She is a spunky little Lionhead who loves attention, toys and treats!

I am so happy I found Fisher Farms Rabbitry. The people are nice and the bunny you get is friendly and well socialized! You guys rock!"
–Thanks from Julia and Lexie

"This is Milo Blue. I am Lillie, and I am a first-time pet owner at the age of 43. Needless to say, I thought long and hard before I decided a bunny was for me and my family. The folks at Fisher Farms were helpful and patient with all my first-timer questions. They helped me decide on just the right bunny, and he is perfect. He has become an immediate member of the family, a source of endless fascination, and all around great pet for a newbie like me. I'm even considering a second one!"
–Lillie

"I first went to Fisher Farms to purchase one or two bunnies. Their honesty and professionalism brought me back a second time to purchase another very soon after. Working with Fisher Farms during the purchase of my rabbits was a pleasure the entire time. They were kind and very helpful. Their rabbits are clean, healthy, and very beautiful. I would recommend Fisher Farms to anyone looking for a quality Holland Lop, whether it be for show or as a pet."
–Jodi Adams
Peachy Buns Rabbitry
www.peachybunsrabbitry.weebly.com

"We LOVE Fisher Farms! They have the cutest, sweetest little bunnies. We visited one other Holland Lop breeder in the upstate, but theirs were really shy and skittish…nothing like Fisher Farms' bunnies! Fisher Farms does such an excellent job at raising rabbits. They turn out sweet, social, and have so much personality. We love our little girl bunny that we bought from them! She will cuddle with you all day if you let her. Out of all the rabbits we've had in the past, she wins the cuddliest award! We would definitely buy bunnies again from Fisher Farms!"
–Chris & Kelly Collins

"I'm new to breeding Holland Lops, and when I saw Pearl (originally Candi) I fell in love with her. Her coloring and beauty stepped out of the "For Sale" page and something told me to inquire about her. I am so glad I did!! When I arrived at the farm, they had her waiting for me. What a beauty she was! Calm, friendly, and so well bred. They showed me her good qualities and what to look for in a mate in order to complement her minor flaws. Being new to breeding/raising rabbits, I asked loads of questions and they answered them with comforting voice and with extreme knowledge of the rabbits, shows, judging, and rabbit coloring. They were a huge help and I can't thank them enough. I know that if I need more questions to be answered, I can ask without feeling like a bother. Thank you for that! Pearl is a pleasure and loves to be held as we love to hold her a lot. She will bring us more joy as the years progress and I look forward to breeding her. I highly recommend everyone getting rabbits from Fisher Farms–I know I will probably be back! Thank you again!"
–Bev Barney
The Mikell family would like to thank Fisher Farms for our new addition to our Hollands! He is a sable point and his name is Miller, he is a sweet heart!
–The Mikell Family
"We purchased a buck from Fisher Farms. His name is Tanner, and he is the most lovable rabbit! He is so funny! He is always waiting at his cage door as soon as you walk in the room, wanting you to get him out. I purchased him for my husband but my son ended up taking him over and showing him in 4H shows; which at his very first show he won Best of Breed and Best In Show! Everyone talked about how great a rabbit he was and that he was truly what you looked for in a Holland Lop. We purchased a second rabbit from Fisher Farms for my daughter; her name is Hope. She is the sweetest and cuddliest rabbit. My daughter holds her for hours at a time. Fisher Farms was a pleasure to deal with. They answered all of our questions and anytime I've needed to ask anything they've been right there. Super great Rabbitry!!!!"
–Missy Mauldin

"Just wanted to let you know that Shane, now known as Merlin, is doing very well with the Robertson family. He is a happy little rabbit that loves the entire family including the dogs. Dylan has been working with him and looks forward to his FFA classes beginning so that he can show his sweet friend. Thank you again for everything."
–The Robertson family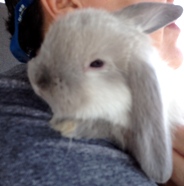 "I've bought numerous rabbits from Fisher Farms for pets. Some of them have been the sweetest bunnies you could ever hope to own. Fisher Farms has always been easy to work with in regards to picking up your bunny as well. They are very helpful and considerate in making it as smooth as possible."
–Traci Bouknight

"I went to the Fisher's this past January and bought a lovely tort doe. I just went this week, July, and got my third beautiful bun from them!!  Enough said!  Such kind and nice people to work with!"
–Cindy Carrington
"Fisher Farms Rabbitry was a joy to work with on getting a Holland Lop buck. They had two bucks available when I went to visit. They showed me both bucks, and helped me weigh out the good and the bad with both bucks. They were very helpful in helping me come to a decision on one of the bucks, 'Fisher Farm's Clint'. I have since purchased a doe from them and plan on being a repeat customer as I add on to my Rabbitry."
–Logan Corn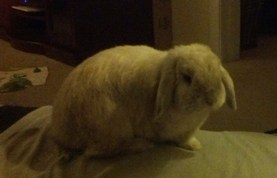 "We got this little guy less than a year ago. We first named him Neyo but he prefers Bun or Mister. It is so funny. He has a big personality and likes to be the boss. He is very very loving. We honestly gave him the whole spare room, so he is rarely ever caged.
–Melinda
"I have been wanting a floppy eared bunny ever since I was six years old. Now at the age of 21, I decided it was time to get one. My sister helped me look for a Holland Lop for nearly a month. (I'm terrible at the internet, so I was glad I have a modernized sister) The more she searched the more she wanted one too. Haha I didn't meet very many helpful people and basically flat out rude ones sometimes. My sister and I kept looking until she finally came across Fisher Farms. They were quick to get back with us, answered every question we had and was always very friendly. I'm SO glad that we found Buttons and Quintin. She is a shy little sweetie and she's a cuddly little friend I have always wanted, and Quintin is an outgoing sweet heart with lots of love to share. They're both healthy, beautiful, and smart little cookies. If your thinking about getting a bunny from the Fishers, we highly advise it. They were very very helpful and wanted to give their little buns to happy loving homes. We're so very happy to have our little friends to love and to love us back.

We can't say thank you enough!
–Brianne
"Eloise is adjusting well to her new home. She has such a big personality and LOVES to look at herself in the mirror!"
–Chandler
"Orville and Hayden are new found BFFS! Thank you guys for such a wonderful and adorable bun!"
–Amanda
"We have had our beloved JoJo, (aka Jones) for almost a month now and he is everything we were looking for and more! He is quickly litter training and interacting with all of us; he is truly a sweetheart! He gets lots of love, kisses, food, water and doting everyday; we think he could be Thumpers twin! Just wanted to let you know how he was doing and how much we appreciate your care of your rabbits! It shows in our little baby!"
–The King Family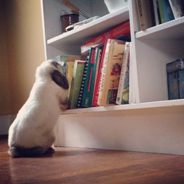 "Mandy, now Mabel is settling in quite nicely. This house bun loves exploring & perusing the cookbooks! Thank you Fisher Farms for this perfect little gift that delights us more & more each day."
–Ginger Henson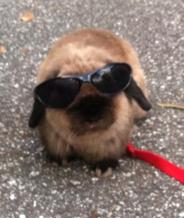 "Here is our Fisher Farms bunny… Mr Snuggles! We love him and he is sooo spoiled!"
–The Smith Family
"Gus Gus, formerly Stevie, has been such a wonderful addition to our family. He is such a sweet rabbit, spends most of his time hopping around and "purring" while we pet him, and we couldn't be happier. Thank you SO much for our newest little family member."
–The Edwards Family
"I contacted Fisher Farms looking for a sweet bunny to be a companion to my bunny, Buttercup.  Desiree` was very helpful and suggested a Sr. Doe named Eleanor.  I met Eleanor and another younger bunny, but Eleanor won my heart.  She is such a sweet girl that loves attention and to be petted.  Introducing and bonding bunnies can be difficult, but Eleanor and Buttercup have taken to each other pretty quickly and seamlessly.  I am in love with sweet Eleanor.  Thank you for your help and such a beautiful bunny!"
–Aimee Eccles
"We adopted Porter, aka Thumper, last month and couldn't be happier. He's perfect inside and outdoors! Thank you again!!!"
–Dowling Family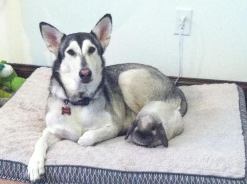 "Fisher Farms was such a pleasure to work with. Being first-time rabbit owners they were very kind and helpful to answer all our questions. Porter is now 3 years old and lives a wonderful life. He loves roaming the house and when he gets tired, we find him curled up next to our dog, Bella. They are two peas in a pod. He is such a well-behaved rabbit and loves snack time when he gets tiny popcorn. Owning a rabbit has been a truly rewarding experience."
–Nick and Whittney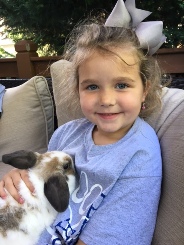 "Just wanted to let you know that the girls are absolutely loving their sweet bunnies! They are doing so well and seem to have adjusted beautifully….they do not lack for love or attention, that's for sure! They are the sweetest bunnies & the perfect pets! Thank you!! :)"
–The Howard Family

"Brody has the best temperament. Gives lots of kisses, loves attention and is constantly waiting by the door for floor time. He's 100% potty trained, something I've never accomplished with a bunny!"
–Molly Goldenstar

"We love our bunnies…"
–Barker Family

____________________________________________________________________________________________________
Hi Janet! I just wanted to let you know, Lottie is doing GREAT in her new home!

She's being very friendly and really likes getting to know everyone. She's using her litter box very well. And she even showed me her very first Binky last night while we were playing outside of her cage!She's the perfect rabbit for us. Thank you so much!
Best regards,
Andrea Wiggins
________________________________________________________
We love our Maggie!! You guys were so onderful to work with! Maggie is so friendly and adventurous! She fits in perfectly with our family.
Merry Christmas From Marshmallow! A year old tomorrow!
Hank is the sweetest bunny ever. We love him!
_________________________
Our family adopted who we call "Ollie Doodle". She is full of spunk and personality. We've had her 3 years now and love watching her grow into herself.  We had the most pleasant and easy adoption experience at the Farm's homey and beautiful location. It's always a treat to go back every year and drop our baby off for vacation bunny-sitting. They go above and beyond in the care they give during sitting, including a full grooming, nail clipping, even cleaning out the cage. I know my bun is always in good loving hands. There's no other picture I could add here that shows the love my daughter and Ollie have for each other!
Thanks so much Janet!!
-Renee Mahaffey